Share the post "5 Tips for Traveling with Your Favorite Pet – Our Rescue Story"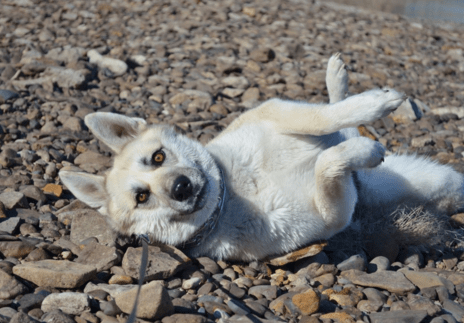 Meet one of those most important furry friends that I have – this is Jenny. When we first moved to Iowa 6 years ago I really wanted to adopt a large dog for my son with autism. I grew up with Doberman Pinchers so I have a special place in my heart for large dogs. I looked up our local animal shelter and headed out to see what dogs they had that day……knowing after 10 years my husband has always said no to having a dog.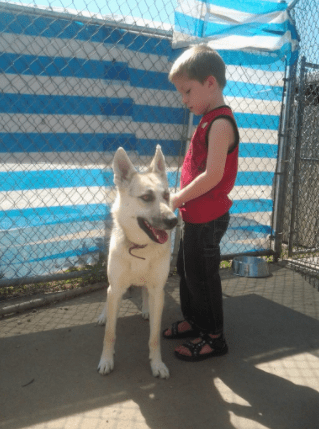 Above is the first time my son met Jenny there at the shelter. I honestly went to the shelter expecting to not find a dog. After all it had to be the right fit and I knew my husband was pretty against having a dog. I walked down the hallways, and when I got to the end I realized there was a small outdoor area to check so I figured why not – I was already there! There were only 2 dogs out there, and Jenny was the VERY last dog in the short row. Workers told me that not one single person had even glanced at her in the 2 weeks she had been there! How heartbreaking! She's SO beautiful!
I was a little hesitant simply because Jenny is a German Shepherd and I had small very loud kids. They found Jenny out on the streets so she had no back story. But I fell in love, head over heels I knew in my heart she was the right dog for us. I went home to pick up the kids from school and brought the family right back out to meet Jenny. After seeing how my son responded with her my husband finally agreed – our first family dog!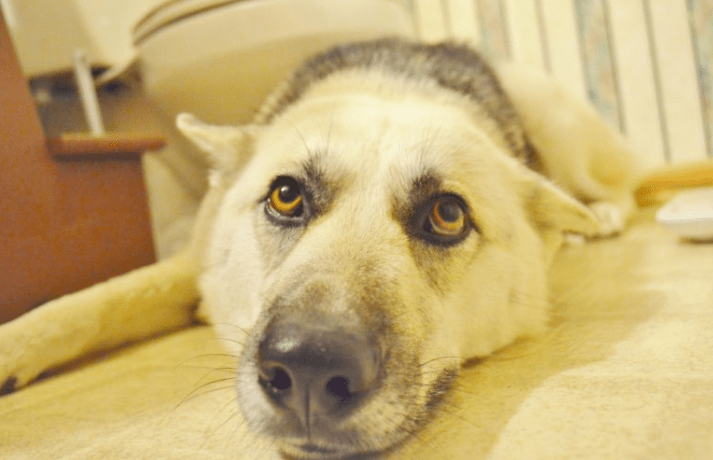 We had to spend a lot of time working with Jenny the first few years we had her because believe it or not she got very car sick! I'm talking full on puking in my car several times in just a short 15 minute drive! It was NOT pretty! We slowly took her on short trips until we could make it 20 minutes away to the nature trails near our house. Thankfully now she has gotten past her car sickness so now she can travel with us!
Tips for Traveling with Your Pets:
Always always always be prepared for anything with your pet! Make sure you have at least 1 pet bowl (2 for longer travel), access to water (or a water bottle),food, and baggies to pick up waste. Don't forget any medication your dog is on.
Bring the proper leash and collar! Traveling can make for some long days and dogs can get really hyper if they need exercise! For Jenny, we use a dog prong collar because she can get pretty unruly when she comes across other animals. But make sure if you use one that you switch them to a regular collar when left alone and at nights.
Have an updated pet tag on! This is SO important – even if your pet is microchipped! They are inexpensive and can provide immediate access to your pet if someone finds them and can call you. It can also alert the finder to any medical needs or let them know your pet is friendly.
Bring treats! Whether you pack a few extra bones or whatever pet you bring – make sure to reward them for good behavior while traveling!
Wear a Wireless Tracker. Unfortunately Jenny is a runner – she's escaped and run clear out of our little towns we have lived in no less than 15+ times. Thank heavens she's always come back or we've retrieved her successfully! It's gut wrenching when you realize a pet has run away so a good quality wireless tracker is important.
PABY sent us their new Wireless 3G GPS Dog Tracker to try with Jenny. It couldn't have come at a better time because literally the DAY we moved into our new house in Illinois she ran away, and did it 3 times the first week! (little kids + open doors = lost dog!) We've tried wireless fences and everything and Jenny is just simply a Houdini!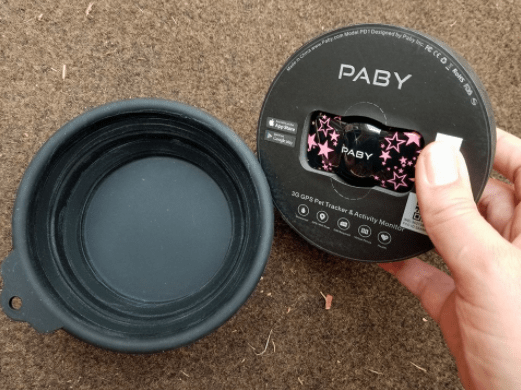 The packaging is SWEET when you order your PABY Dog Tracker. It comes in a travel pet dish that collapses – how useful!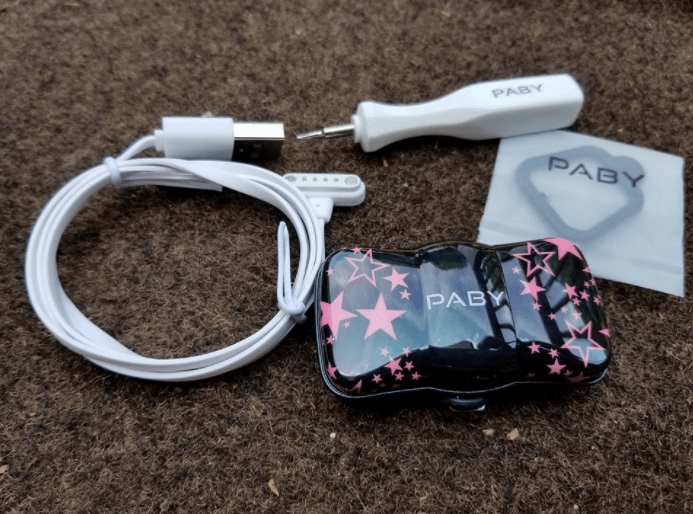 What We Thought:
What I loved right away is that the dog tracker is extremely light weight and small which makes it ideal for even your smallest pets. It attaches to your pets collar which is good and bad. The pro with that is that your pet can't easily shake it off! The con is that you have to actually remove the tracker to charge it – and this thing is a bit of a battery suck. There are some real pros and real cons with this PABY Dog Tracker. I have no experience with any other brand so I'll just share with you what we observed with this one.
I mentioned the battery issue. I was a little surprised how often you have to charge this thing. I'm rather forgetful so keeping up with maintenance like constant re-charging isn't easy for me! You DO have to purchase a network service plan but there are various options so you're not tied down to one. (You can see the options here.) You can keep track of your pet's activity and location with a real time map in 2D and 3D. Set up virtual "fences" and be notified when your pet leaves the area. This is fantastic for actually tracking your pet. Dogs are FAST and can dart through backyard and across roads pretty quickly!
If you live in a rural area like me where cell phone and internet coverage is really spotty you may run into some problems though. The device is waterproof though so you don't have to worry if your pet likes to wade in creeks like mine!
Share the post "5 Tips for Traveling with Your Favorite Pet – Our Rescue Story"