Since moving back down to the south one of my all time favorite meals is a good authentic cajun Louisiana seafood boil recipe! Seriously – we call them shrimp boil recipes at home – but you can add your crawfish in there too! Made at full capacity it is a party of flavor in your mouth. (Although you can turn the heat down for those that aren't Cajun!)
The first time I had a seafood boil (aka shrimp boil) my eyes just about popped out of my head! The amazing smells and mounds of food are just mouth-watering! I can't believe I had never thought of this one pot recipe before! YES! It's all cooked in ONE pot – easy peasy!
Below are TWO different recipes – the first one being more traditional authentic Cajun style and the second being more kid-friendly, or less spicy. They're both really fantastic and will revolutionize your dinner table!
Cajun Louisiana Seafood Boil Ingredients:
(easy printable version at bottom of post)
3 pounds crab (blue or Dungeness)

3 pounds shrimp

4 corn on the cob (halved)

6 large potatoes (red)

1 whole boudin (or sausage) cut in slices

1/3 cup canola oil

5 onions (yellow)

4 celery stalks (cut in half)

2 lemons (quartered)

8 garlic cloves

5 bay leaves

1/4 cup sea salt

1 Tbsp cayenne pepper

1 Tbs black peppercorns

water
Not-so-Cajun style Ingredients:
2 lbs. shrimp

2 lbs. crab (blue or Dungeness)

8 large potatoes (red)

5 corn on the cob (halved)

1 whole boudin (or sausage) cut in slices

water

1/4 cup canola oil

3 celery stalks (cut in half)

1 lemons (quartered)

1 onion

4 garlic cloves

4 bay leaves

1/4 cup sea salt

(This last version is less spicy and more kid-friendly for those of you who can't handle the heat!)
Directions:
For both the family-friendly (less spicy) version of the shrimp boil as well as the authentic Louisiana seafood boil I recommend at least a 12 quart stock pot with strainer if you have it. Otherwise the biggest stock pot you've got will do as this is a one pot recipe! (The bigger the better!)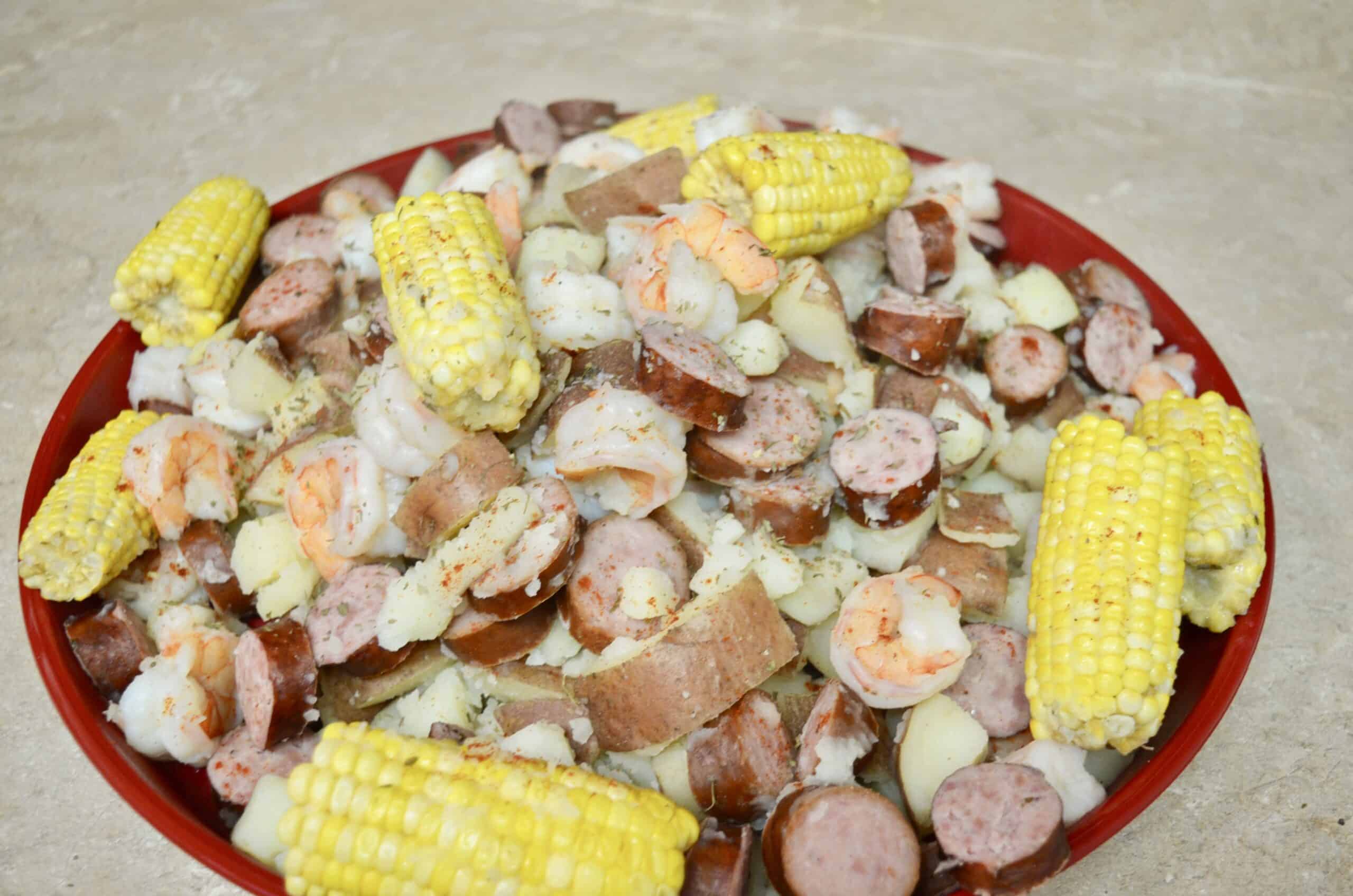 This recipe is basically about order! It's all going in the same pot (amazing right?!) so you can adjust the below based on which recipe you are making.
Step 1:
Pour water into your large stockpot – between half full. Don't forget you'll need room to add all of the ingredients!
Add all of your oil, seasonings, vegetables (EXCEPT for the potatoes and corn) and bring to a boil over high heat. Boil for 10 minutes. (Just to clarify this is EVERYTHING inside your pot boiling except for the shrimp, crab, potatoes and corn!)
Step 2:
Add the potatoes and boil for 5 minutes (I usually cut my potatoes but traditionally you keep them whole).
Step 3:
Add the crabs and boil for 15 minutes.
Step 4:
Add the corn and boil for 5 minutes.
Step 5:
Add the shrimp and boil for 1 minute. Turn off the heat and let the mixture stand uncovered for 5 minutes.
If you've got a strainer in the pot just pull it out and you're all set to go! If you don't then you'll need to strain out everything or pour it through a massive colander if you've got the muscles for it!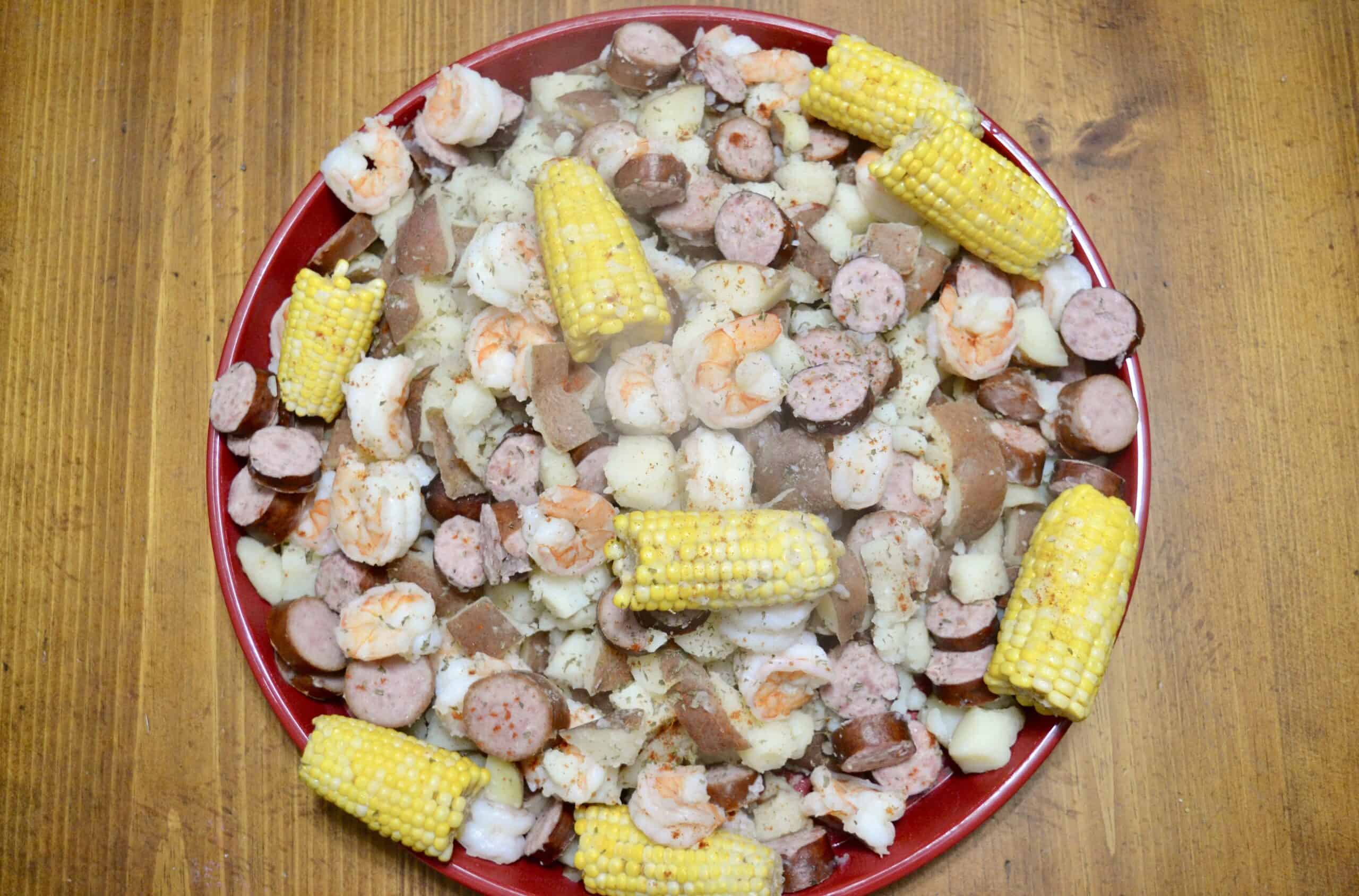 You're all ready to serve your shrimp boil now! For a more traditional authentic Louisiana seafood boil you'll want to lay down plenty of newspaper (I like to put parchment paper underneath OR only use parchment paper) in the middle of the table and pour out all of your ingredients! Right onto the table! Sprinkle on some paprika and grab your friends!
We actually love piling up our seafood boils right into a crawfish platter which you can pick up for just $2-3. It certainly creates an impressive pile of food!
Yield: Serves 8-10
Authentic Cajun Louisiana Seafood Boil Recipe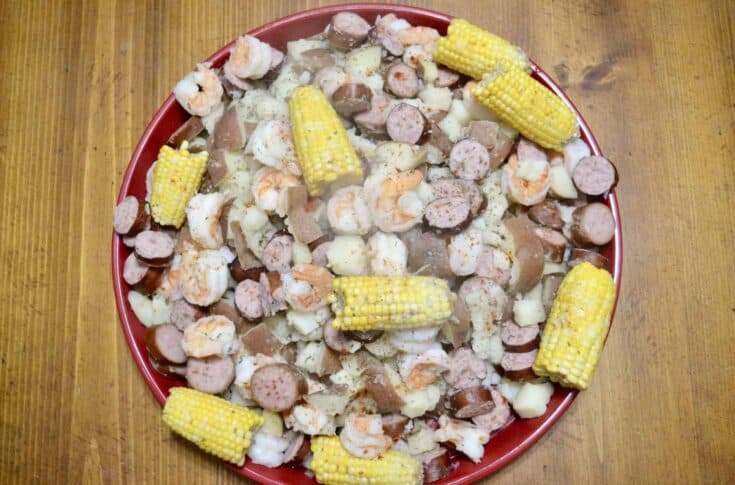 Authentic southern Louisiana Seafood Boil (AKA "Shrimp Boil")

Prep Time 10 minutes

Cook Time 45 minutes

Total Time 55 minutes
Ingredients
3 pounds crab
3 pounds shrimp
4 corn on cob
6 large potatoes
1 whole boudin or sausage
1/3 cup canola oil
5 onions
4 celery stalks
2 lemons
8 garlic cloves
5 bay leaves
1/4 cup sea salt
1 Tbsp cayenne pepper
1 Tbsp black peppercorns
water
 Zatarain's Seafood Boil Seasoning 
Instructions
Pour all seasonings and vegetables (except for corn & potatoes) into stock pot with water. Bring to a boil and boil for 10 minutes.
Add potatoes and boil 5 minutes.
Add crabs and boil 15 minutes.
Add corn and boil 5 minutes.
Add shrimp and boil 1 minute.
Turn off and let sit for 5 minutes.
Strain and serve.
---
More Popular Posts: