If you've never been to the Morton Arboretum in Illinois, it's a beautiful location in the Midwest seen from the highway featuring 1700 acres of 16 miles of hiking trails and gorgeous gardens! They are absolutely top notch with special days like searching for these giant trolls and their magical annual events!
I also highly recommend their annual holiday lights (Halloween AND Christmas!) as they are simply magnificent and worth the drive. They also have a wonderful gift shop, hedge maze with treehouse, children's garden and so much more! Make sure you check their "know before you go" page for updates on entry time and requirements right now.
These giant trolls were a (very popular!) temporary exhibit at the Morton Arboretum but you can find them at other locations around the country. They were supposed to leave the arboretum in 2018, then again in 2019, and with the pandemic they lasted till 2021. (They are supposed to be there until January 31, 2021.)
Six larger than life trolls, created by Thomas Dambo out of reclaimed wood, spread throughout 16 miles of hiking trails. You don't actually have to hike ALL those trails to see the trolls – we drove to many of them. But even driving between them we still ended up with about 4 hours of hiking for our group. (The minimum hiking to see all of the trolls is about 6-7 miles.)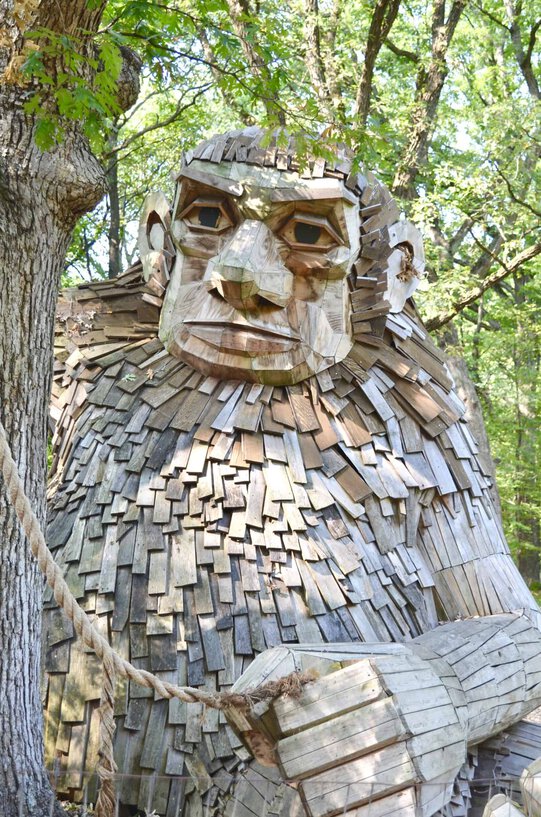 So why trolls? These larger-than-life 15-30 foot tall creatures resemble the European folklore trolls which protected trees. A perfect exhibit for an arboretum! These gigantic trolls serve as protectors of nature while providing its viewers the time to step away from their busy schedules and be surrounded by that which the trolls protect.
Troll seen from the highway near the Morton Arboretum.
Each troll is located under a mile from a parking lot and some of them can be seen from the car. We were traveling with my father in law who has heart issues and is less mobile than he used to be and he was able to see all of the trolls that day.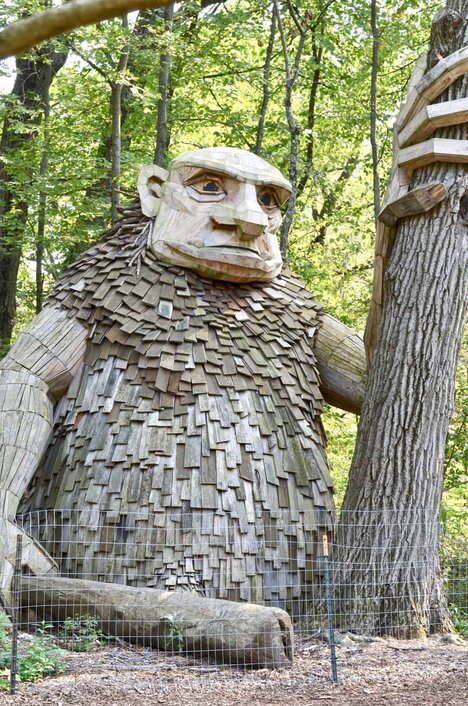 We had never actually been to the Morton Arboretum before as it's a bit pricey for our family of 5. (adults are about $15/each and kids are about $10/each – that breaks down to $60 for my family to walk the trails) My in laws, however, came with us and used their family membership which is the way to go if you live locally.
It's an absolutely beautiful location though so if budget isn't an issue it's worth visiting or acquiring memberships.
This troll was a little quirky – measuring over 60 feet long! It reminded me a little bit of the The Awakening in Chesterfield, Missouri. (you can climb on that sculpture and it's INCREDIBLE for photos!)
The architecture of these giant trolls though is actually quite stunning. Just look how precise each design is. I can't even imagine the sheer amount of time it took to make each piece contour the curves and take shape.
These fierce trolls standing guard in the Morton Arboretum had been on our bucket list to see for several years so I was thankful they stayed around just a little bit longer.
While you don't see the entire photo here (largely due to the amount of fencing they had installed around this troll "diorama", this troll is hurling a rock at a demolished vehicle.
Troll is a term used to describe various supernatural beings in Nordic folklore and storytelling traditions, and has roots in Norse mythology. Both appearance and characteristics can vary, but the creatures are often both dangerous and stupid. – Lillehammer
Trolls were the main characters in Norwegian folk tales in the 1800s and typically portrayed as something to be feared. But these giant trolls at the Morton Arboretum are a bit friendlier then that and show their strength in size and (relatively) friendliness protecting the environment.
If you're looking for other family-friendly places nearby check out the little Popcorn Shop, the C.S. Louis desk AND wardrobe that inspired the Chronicles of Narnia, Cantigny Park, and Santa's Village. We also really love Augustino's Rock n Roll Diner!
---
Other Illinois Adventures: