Having never seen a redwood tree in my life before our cross-country trip, I always assumed there were just one or two areas to see redwood trees in California – but that couldn't be further from the tree! There are stunning serene forests of redwoods you can explore for hundreds of miles in California and Oregon (and Washington)! Below are some tips for exploring Humboldt Redwoods State Park. (You can read more about camping in the redwoods here!)
Below you'll realize there is a LOT in this area and if you have it, several days would be a great start to your itinerary for exploring! From camping to drive thru trees – the area has a lot to offer nature lovers.
Tips Before You Go:
Bring bottled water.
Use the restroom before hiking.
Gas up your vehicle!
Bring a sweatshirt!
Plan a whole day!
When you get home – grow your own redwood tree!
Humboldt Redwoods State Park:
History of Humboldt Redwoods:
In the 1850s, redwood trees were cut down to clear land for farms as lumber became an important industry. By 1918, however, the Save the Redwoods League was formed to preserve these beautiful giants. You can find sustainable redwood cones for crafts and decorations here!
Things To Do in Humboldt Redwoods State Park:
Auto Tour of Avenue of the Giants (see below)

Bicycle Trails

Boasting

Camping (no electric hookups/dump stations) Albee Creek, Hidden Springs, Burlington)

Fishing

Hiking (100+ miles of trails!)

Horseback riding

Swimming (South Fork and Eel River)
TIP – NO dogs (on trails), NO hunting, NO guns
How old are the redwoods?:
These enormous coast redwood trees are as old as 2000 years old!
How tall do redwood trees get?
These giants grow 370 feet high! They are the tallest trees on earth!
What other plant life grows in the Redwood forests?
Believe it or not there are a lot of things that grow in the Redwood forest! You'll find beautiful Trillium, redwood sorrel, plenty of fern, fairy lanterns and calypso orchids.
What wildlife lives in Humboldt Redwoods State Park?
This serene forest is thriving with wildlife and if you're quiet enough you might catch a glimpse of some! You'll find black-tailed deer, chipmunks, raccoons, skunks, coyote, black bear, river otters, an occasional bobcat, slugs, and over 140 species of insects – to name a few!
TIP – If you come across a slime or bubble trail that might even have a rainbow prismatic effect – it's the trail of a yellow banana slug!
What's the weather like at Humboldt Redwoods State Park?
Weather changes quickly here so it's best to be prepared! Summers are pretty dry but the dampness can feel quite chilly with temperatures ranging from 50*F-90*F. From October to May the area gets about 80 inches of rain and can range from 20*F-50*F – so you'll want to dress warmly!
Avenue of the Giants:
Humboldt Redwoods State Park contains the world-famous Avenue of the Giants which was actually our very first stop in the area. It contains the largest remaining old growth redwood forest in world with ancient coast redwood and Douglas-fir trees everywhere you look.
We were driving up Highway 101 from Los Angeles all the way to Washington and I wanted to do it all! However, I didn't realize that Avenue of the Giants is actually 31 miles long! Definitely not just one place to explore! There are eight different stops you can get out at and explore!
How long is Avenue of the Giants?
In case you didn't catch that 31 miles long part, the redwoods of Humboldt are about 53,000 acres which is TWICE the size of San Francisco! YOU WILL NOT SEE IT ALL!
I suddenly felt frantic that I was going to miss seeing things since I didn't realize how vast of an area this drive was! Stop right there if you're feeling this way – the redwoods are amazing no matter where you are! If we had missed Avenue of the Giants – it would have been ok because we spent several nights camping in the redwoods! It's all amazing!
TIP – Look for maps of Avenue of the Giants at local tourist stops, welcome centers and gas stations!
Famous Stops in and near Avenue of the Giants:
1.–Visitor's Center
The visitor's center is a great place to stop and learn more about the area or pick up some great souvenirs. PLUS they have a map of Avenue of the Giants that you can pick up to help you navigate the area! You can also see the world's first RV carved out of a fallen log!
2.- Founders Grove Nature Trail
On this trail you can see the Founders Tree (346 ft tall and 40 ft around!) and the Dyerville Giant (once taller than Niagara Falls!) which fell in 1991 and was heard for miles around! You'll also see trees honoring the creators of the Save-the-Redwoods League (formed in 1917) which has protected over 170,000 acres of redwood forests.
3.- The Rockefeller Tree
4.-Shrine Drive Thru Tree
Another awesome drive thru tree in the area that is $10 per vehicle. This tree has a VERY tight opening so anything bigger than a mini-van will NOT fit! There's also an awesome little 2 story treehouse to climb through as well that's quite creative!
5. Giant Tree & Flatiron Tree
The largest trees in the park!
6.- The Chandelier Drive-thru Tree
This nearby attraction cost $10 per vehicle and has an awesome gift shop with great photo opps in surrounding downed trees.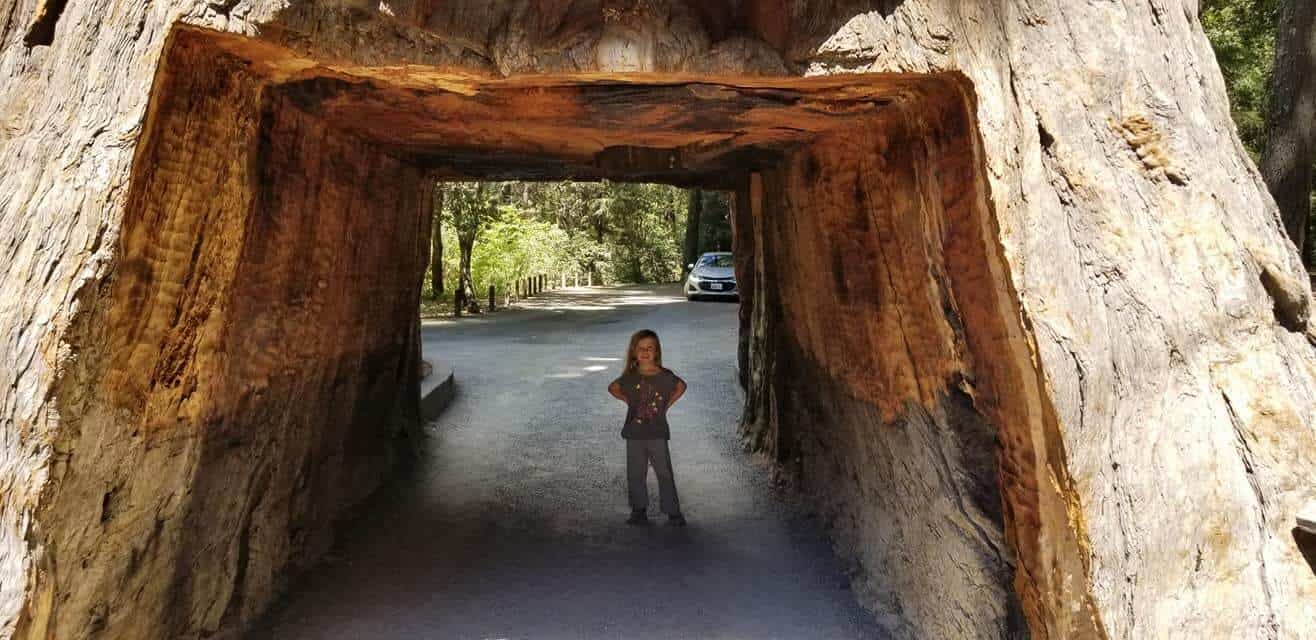 Explore More!