Driving through Missouri you can't miss the advertisements for Bonne Terre Mine – featured as the worlds largest subterranean lake – I was all in! A 150 year old underground billion gallon lake in the Midwest you can view on a boat ride? Strange enough for me to explore this cave in Missouri!
If you've poked around here at Exploration America at all you might have observed my fascination for caves and road trips in the USA! I can't even tell you where it all began, except that growing up we did not travel – there was no such thing as a vacation for us. Except once – we took a 2 night cruise from Tampa to Key West – it was the highlight of my childhood.
Ever since I went to college and into my adult life I've chased adventures everywhere I can find them! So naturally, being a cave enthusiast, I had visiting the Bonne Terre mine in Missouri on my bucket list – I was just waiting for the right timing and the right road trip to take me through the area!
The actual tour of Bonne Terre Mine is a combined boat and walking tour with stairs so you'll need to ensure you can physically handle the stairs and walk through the mine. It is not a strenuous walk however so if you can make it down the stairs and into a boat you will be ok. As with most caves, the mine is a constant 65-degrees temperature year-round.
My daughter was around age 6 or 7 when we took the last tour of the day at Bonne Terre mine as we stopped for a much needed break from the road!
If you're taking younger kids, there is nothing scary, but I do recommend making sure they go potty and are well fed before you head down into the mines! Crying and screaming kids in a cave is a nightmare for everyone – trust me – I have experience with this!
The History of Bonne Terre Mine
I wish I wasn't so tired from driving all day as we were driving from Chicago to Louisiana but the beginning of the walking tour leads you through their old mule entrance which was pretty awesome! You can see in the photo above some of the historic tools and equipment that they used in the mines when they were in use.
Bonne Terre Mine is a five level underground cavern created beginning in 1862 by the St. Joe Lead Company, of which produced 70% of lead in the United States at the time! They had to actually pump spring water out of the caves so they could safely mine. Today, the pumps of course have long been shut off causing the mine to flood – creating the world's largest subterranean lake and the perfect hotspot for divers!
The lower three levels of the mine system form a seventeen mile long lake rich in history and exploration for tens of thousands of visitors each year. If you really want to dive deep into the history of the Bonne Terre Mine I recommend starting at this report here. 
Features on the Walking & Boat Tour
Once you pass through the former mule entrance, you'll descend to 200 feet underground – taking a 65-step staircase (in and out). The walking portion of the tour is roughly a third of a mile long until you reach the dock of the Billion Gallon Lake (which is also where scuba divers begin their descent!)
Definitely a first for me out of the 40+ caves I have toured, there is an underground garden in the mine! YES – they are actually growing plants down there made possible by the addition of "grow lights". It was pretty surreal and fascinating.
On the way to the boat dock you'll see remnants of the mine's past history like this ore cart and rail still sitting there looking like it was left to use for work the next day. You'll be able to see where miners dug with pick and shovel in the 1860s and envision the work conditions they had to endure.
Compared to the typical show cave tours I've been on, you'll immediately notice a different feel to this cave tour as it's history is deep in industrial usage. But don't let that deter you, the cave has had plenty of time to create some beautiful calcium deposits and waterfall areas to enjoy.
While I don't focus on it in this post, you might notice above a row of yellow scuba tanks on the dock. In addition to walking and boat tours, people come from all over the world to dive more than 100 feet down into the mines making it the largest fresh water scuba diving venue in the world!
The water is a chilly 58 degrees but is well illuminated from above and for divers, tours are accompanied by two guides in groups of nine for safety. It's even been visited by the famous explorer Jacques Cousteau!
Once you arrive at the boat docks you will be required to put on a life vest before boarding the pontoon boat which really only lasts for about 10 minutes.
While floating around the massive limestone pillars in a large unbelievably sized room you'll easily be able to look down the side of the boat through the crystal clear water to view old mining equipment like an ore cart and abandoned tools. It was absolutely fascinating.
Overhead you'll see abandoned wooden catwalks up to 100 feet above the lake! Unlike most caves you can tour in the Midwest, they actually have a fish left in the mine that our tour guide fed while we were there! She was great and let me daughter throw the food in which was pretty special!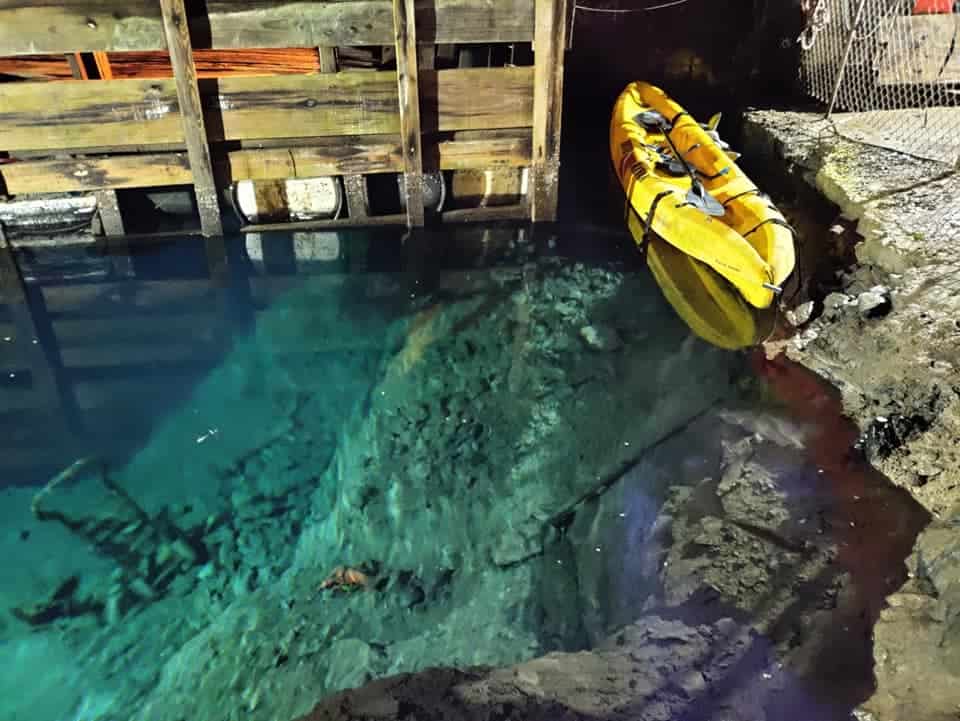 Just a heads up that since you are constantly moving (at a slow pace) in a boat, taking pictures will be difficult even though the mine is well lit. You can see above the massive pillars holding up the mine ceiling. It was definitely a unique and awe-inspiring visit to Bonne Terre mine!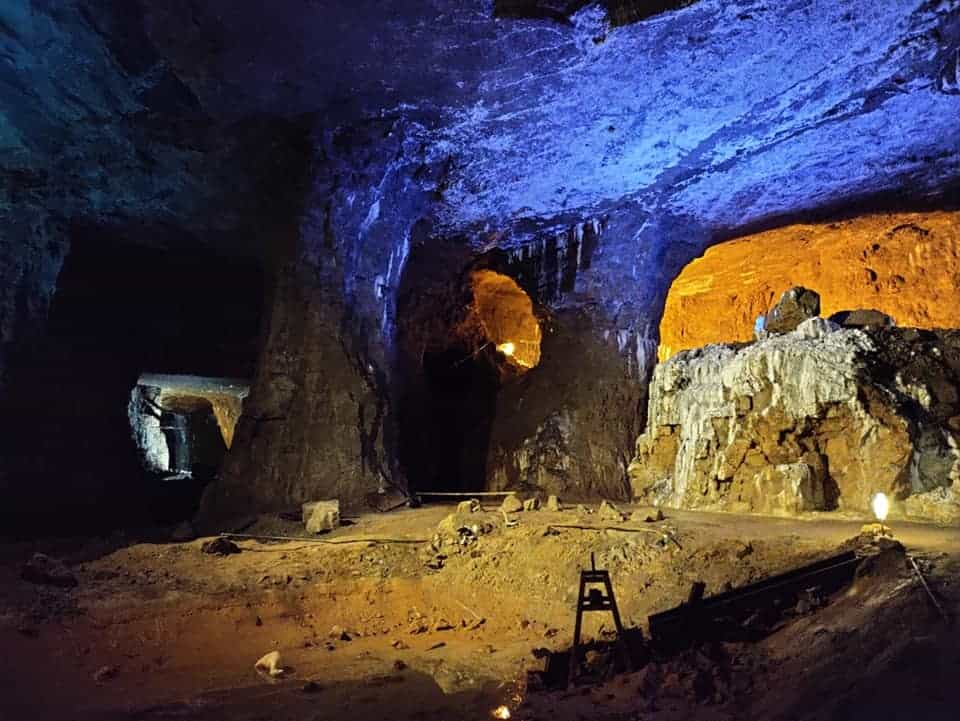 If you get the chance, I highly recommend staying nearby at unique locations like the Cave House in Stone Park, or sleep inside an old box car or the historic train depot at Bonne Terre!