Visiting The Children's Museum in Indianapolis has been on my "NEED TO VISIT" list for several years now! I was so excited to FINALLY make it over there with my family thanks to the museum working with us during our latest Indiana road trip! There is SO much to do at The Children's Museum of Indianapolis!
We were there from open to close on a Monday and STILL felt like we didn't spend as much time as we wanted seeing everything! It was engaging for all of us – from the preschooler right up through the adults.
Kids under 18 must be with their parents in the museum so that did make it harder for our family to coordinate since we have such a big age span so we mostly just split up for the day. My husband ended up taking the older boys for most of the day while I took my daughter around so she could see things at her own pace. You can see even MORE photos of our day here and here.
Where is The Children's Museum of Indianapolis located?
The museum is located at 3000 North Meridian Street, Indianapolis, IN, USA 46208. Parking is always FREE and found just across the street from the museum. Once you arrive at the museum area you can't miss it! There are dinosaurs coming out of different areas of the museum and you'll easily see the parking garage and parking lots just across the street. You can also find more details about arriving via public transportation here.
HUGE BONUS – there's FREE wi-fi at the museum too! There are family restrooms located throughout the museum, and there's also a private nursing area in Playscape on Level 3. They also have coat check, lockers, and even stroller rentals available for just a few bucks. Pretty much anything you needed – they have available! Even this app to download and track your day + fun photo filters!
Can you bring your own food into The Children's Museum of Indianapolis?
YES! This is something I wish I had known before I visited! We have several food allergies in our family so I appreciate that the museum allows you to bring your own food if you need! They also have TONS of dining areas, restaurants/cafes, picnic tables, and more!
The restaurant/cafe is on the main floor of the museum across from the gift shop (pssst – they have cotton candy too!) or grab some ball park eats outdoors in the Riley Children's Health Sports Legends Experience! There are plenty more picnic tables out there as well! We were able to find a few allergy friendly snack options which was nice.
Visiting The Children's Museum of Indianapolis with Autism & Sensory Needs:
My oldest son has autism, and I am so grateful that he is now pretty good at regulating his own needs as a teenager…..but it was a far different scenario when he was younger. The Children's Museum of Indianapolis has taken great care in providing Sensory Maps and resources for children attending with autism and sensory needs. I would have given anything to have been able to visit somewhere like that when my son was little! It would have made such a big difference in our experience going out.
There are icons that tell you if an exhibit is bright, loud, smells, and other key sensory stimulants as well as offers you alternative locations that might provide a better experience for your child. You can also download a social narrative with photos so children with anxiety can see the exhibits before visiting as well as a visual checklist that includes picture cards to print too! I noticed the signs before entering exhibits as well.
Things to Do at The Children's Museum of Indianapolis:
Discovering Dinosaurs: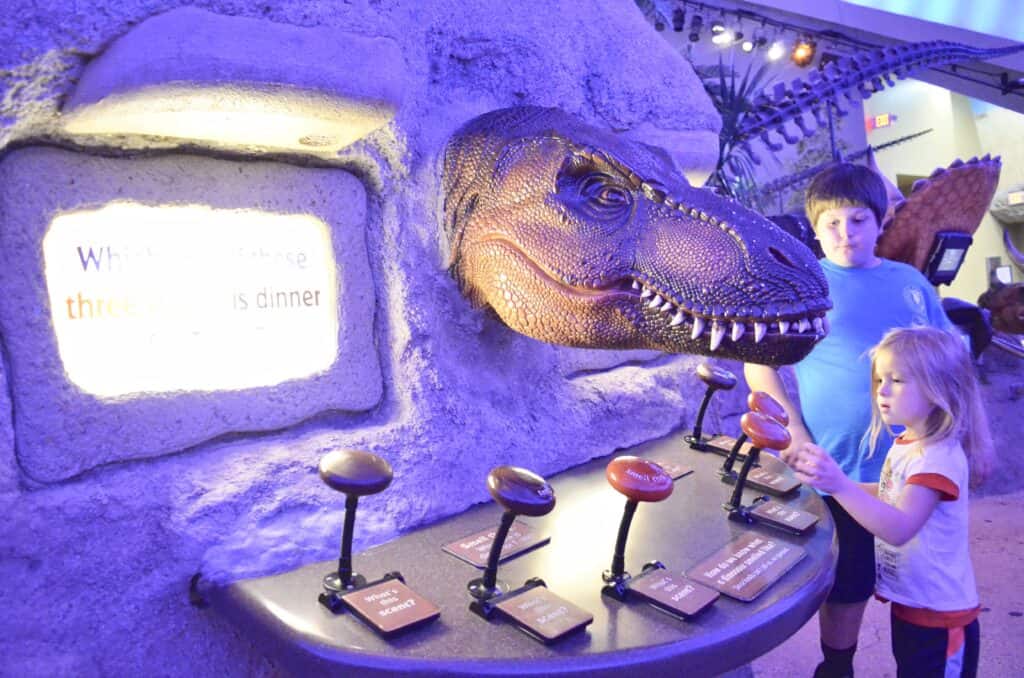 I have a thing for dinosaurs and The Children's Museum has done an AWESOME job in this exhibit! The Dinosphere is far more than just a speedy walk through of dinosaur skeletons. There are controls to engage learning, faux x-rays to see dinosaur bones, visual "binoculars" to take a closer look at dinosaurs, crawling tunnels and even a Paleo Prep Lab where you can watch scientists uncover and care for dinosaur bones!
Learn more about some of the bones coming to the Paleo Prep Lab and learn more about Mission Jurassic – an international scientific collaboration to research a NEW dinosaur find dubbed The Jurassic Mile in Wyoming.
Uncovering the Past: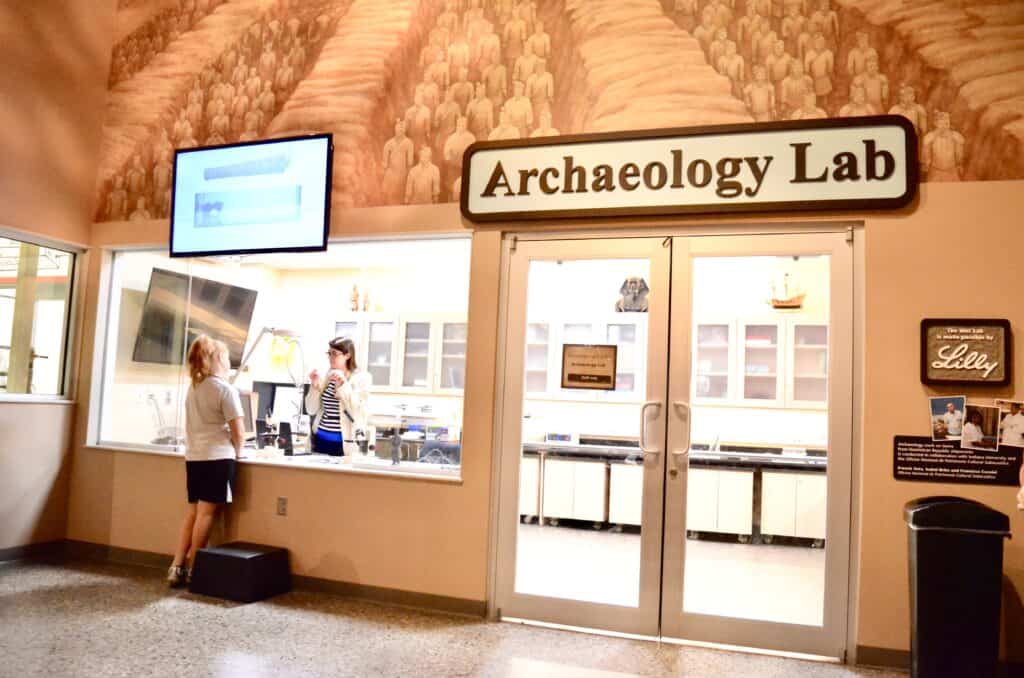 Believe it or not my childhood dream was to be an archeologist so I geeked out quite a bit over this area of the museum! There are three main sections of this Treasures of the Earth exhibit:
Tomb of Egyptian pharaoh Seti I
Burial site of China's Terra Cotta Warriors
Caribbean shipwreck of Captain Kidd
When I first walked in I was like WOW! Full scale awesomeness! In fact my boys and I spent a few hours down here! There is a REAL cannon from a shipwreck, an interactive sarcophagus puzzle, a REAL mummy, a dig pit area, a 3D Terra Cotta Warriors "puzzle" to rebuild the statues, a digital postcard station, and so much more! Not to mention the archaeology lab where you can watch a scientist work on shipwreck artifacts!
Exploring Space:
This walk through ISS exhibit is pretty epic and perfect for your budding astronauts. I really felt like I was walking through a NASA pod! It even comes with a stunning view of Earth!
While we were walking through the space exploration area we happened to pass the Schaefer Planetarium and Space Object Theater just before they were showing the film "How Sci Fi Becomes Reality". It peaked the interest of my boys so, knowing nothing about it, we decided to walk in and take our chances. SO COOL! The film incorporated the dreams of Star Trek and showed how they were inspired by, or inspired, real life objects that we use today! It was utterly fascinating!
For your younger kids here – they have dress up astronaut costumes that your kids can wear and hang up when they are done!
Fashion & Design:
Upstairs is the American POP exhibit, which my boys really wanted to see. I wasn't expecting much to be hands on as there were many displays of older games, toys and collectibles here behind glass but there was plenty for my 4 year old to do! She parked herself at the fashion design table here and spent quite a while creating her own fashion trends and dresses on 3D printed mannequins! As you can see there are plenty of stations and fabrics to work with!
There's also a cool section dedicated to denim where she could "create" her own outfits with interactive patches to move around on the denim outfits.
Becoming a Sports Star:
***Closed toed shoes are REQUIRED for the racing experiences!***
Outside of the museum (but included with your admission!) is the 7.5 acre Riley Children's Health Sports Legends Experience. I've never seen anything like it – it's absolutely incredible and a MUST DO even if your children aren't into sports! Essentially there are "kid-sized" versions of most major sports fields – baseball, hockey, basketball, tennis, racing, soccer, football, golf, track and fitness.
How AMAZING is this field?! What a FUN time it was for us as a family to run around outdoors in the sports arenas and play together! There are even basketball poles that are low enough for preschool kids!
Playing:
In addition to The Children's Museum having oodles of pretend play and hands on exhibits, there are also several areas dedicated to just playing! There's a small indoor "house" play area next to the carousel on the top floor. There's also a Playscape area for younger kids which I LOVED for my four year old. From sand tables to water tables and the below netted area – there was plenty to do!
There is also a specific baby play area here too!
Outside in the Sports Experience area is this massive EPIC treehouse playground! Wild isn't it!? Walking up to this reminded me of Disney's Animal Kingdom's Tree of Life. It was just LARGER than life and loads of fun for the kids!
Caring for Animals:
In "Greece" there is an extensive sea turtle play and vet check area. We spent a lot of time here! There were plenty of sea turtles and babies to run around with, nest areas to "cover", and weighing stations for kids to give the baby sea turtles a checkup! We went on a very busy day (Labor Day!) and my daughter still had no problems finding dress up clothes and pretend play items to use throughout the museum.
Retro Throwbacks:
From the first floor in front of the gift shop if you look up you can see a BRIGHT PURPLE American POP exhibit entrance which immediately caught my boys attention because one of their favorite characters was on display – Alf!
And seriously – Stay Puft?! This Ghostbusters favorite was in the gift shop!
Chug-a-Chug-a Choo Choo!:
Don't fear train lovers! There are PLENTY of trains for kids to watch, touch, crawl under tunnels, AND climb onto to walk through! Although my boys are long past the train phase, it was a fantastic exhibit and I know we would have spent a lot of time here if my boys were younger!
Riding a Carousel:
Carousel rides are $1, unless you're a member, then they're FREE! Thankfully there is a change AND credit card machine right in line for the carousel for those of us who never have cash on hand! As you can see there are plenty of animals as well as stationary seats on the carousel!
Even MORE FUN at The Children's Museum of Indianapolis:
Cave Exploration – On the top floor of the museum tucked away in a corner is a faux cave that you can enjoy. Kids can attend a scientist talk, count the bats and cave crickets inside, and even run their hands along the wall! (which is a big no no in a real cave since it is damaging to its growth!)
Locks / Water play – Also on the top floor of the museum, this area is really incredible! It features a water play area for various watershed systems in the country (and specifically around the midwest region!). Occasionally fog drops and a "storm" sets in!
Glass Fireworks art – Wowza this was a neat colorful exhibit! It features the art work of Dale Chihuly with 3200 pieces of blown glass including one structure that is 5 stories high! BUT don't check out – it's not just glass you can't touch! Sit in the rotating reclining seat in the middle of the exhibit to stare up at the glass art in the ceiling for a real live kaleidoscope view! PLUS kids can design their own art structures with faux glass pieces that look just like the ones in the exhibit!
Greece – If your kids love pretend play then Greece is the play to be! Well, in the Children's Museum anyway! Kids can literally watch how olive oil is made (which is really cool!), "shop" in the markets, care for nesting sea turtles, go "fishing", and more!
Lilly Theater – Unfortunately we did not get the chance to go to the Lilly Theater which is free with admission but you do have to get a ticket at the Lower Level ticket booth. The theater uses imagination, comedy, and colorful costumes to bring plays to life!
Other Things to Do in Indianapolis: