I have an undying love for archaeology (seriously, it was my "what I want to be when I grow up" career as a kid!) so when I learned about U-Dig Fossils in Delta, Utah we literally drove hours out of our way to visit. You can dig your own trilobite fossils in Utah AND KEEP THEM! Keep as many as you can find – and they are everywhere!
In fact EACH of us loaded a 5 gallon bucket full of fossils before we got too tired to hunt anymore – although we decided NOT to take 25 gallons of rock home with us! So let's start back at the beginning of this hot and dusty journey.
First, the quarry is about 50 miles west of the town of Delta, Utah. (From Provo it's about 142 miles and 182 miles from Salt Lake City.) Trust me when I say there's nothing out near the quarry – so make sure you gas up your vehicle and have plenty of water and supplies with you before you leave town!
We drove in from Salt Lake City on our (very out of) way to Colorado Springs. It can get well over 100* in the summer in Utah and you do not want to be stranded in the middle of nowhere because you forgot to fill up your gas tank! I also highly recommend having a gallon of water per person on hand if you're traveling.
I'll tell you this – the scenery is breath taking! Aside from traveling on a road to get there – you'll feel like you're the only person who exists on the planet. It's a strange and beautiful feeling all at once. The kids were SO excited by the time we saw our first quarry sign – but be forewarned, you have 20 more miles to go – all on a gravel dusty road!
How to get to the U-Dig Fossils Quarry:
As you can imagine there's a pretty good possibility that your phone GPS will not work out there…..and even if it does it will probably be quite wrong. Once you get on the main road, you can't miss the quarry signs like you see above. There's quite literally nothing else around.
U-Dig has done a fantastic job of marking every turn once you get to their quarry. I get a little nervous driving to the middle of nowhere with kids and a GPS that won't work but everything was so clearly marked it wasn't an issue at all.
Directions from Delta:
Drive 32 miles west of Delta on highway 6/50. At the U-Dig Fossil Sign, between mile markers 56-57, turn north. (you'll see the sign in the photo above!) Then travel 20 miles down a gravel road to reach the U-Dig trilobite quarry. There are U-Dig signs posted along the 20 miles of gravel road (like you see below!) to keep you on the correct route.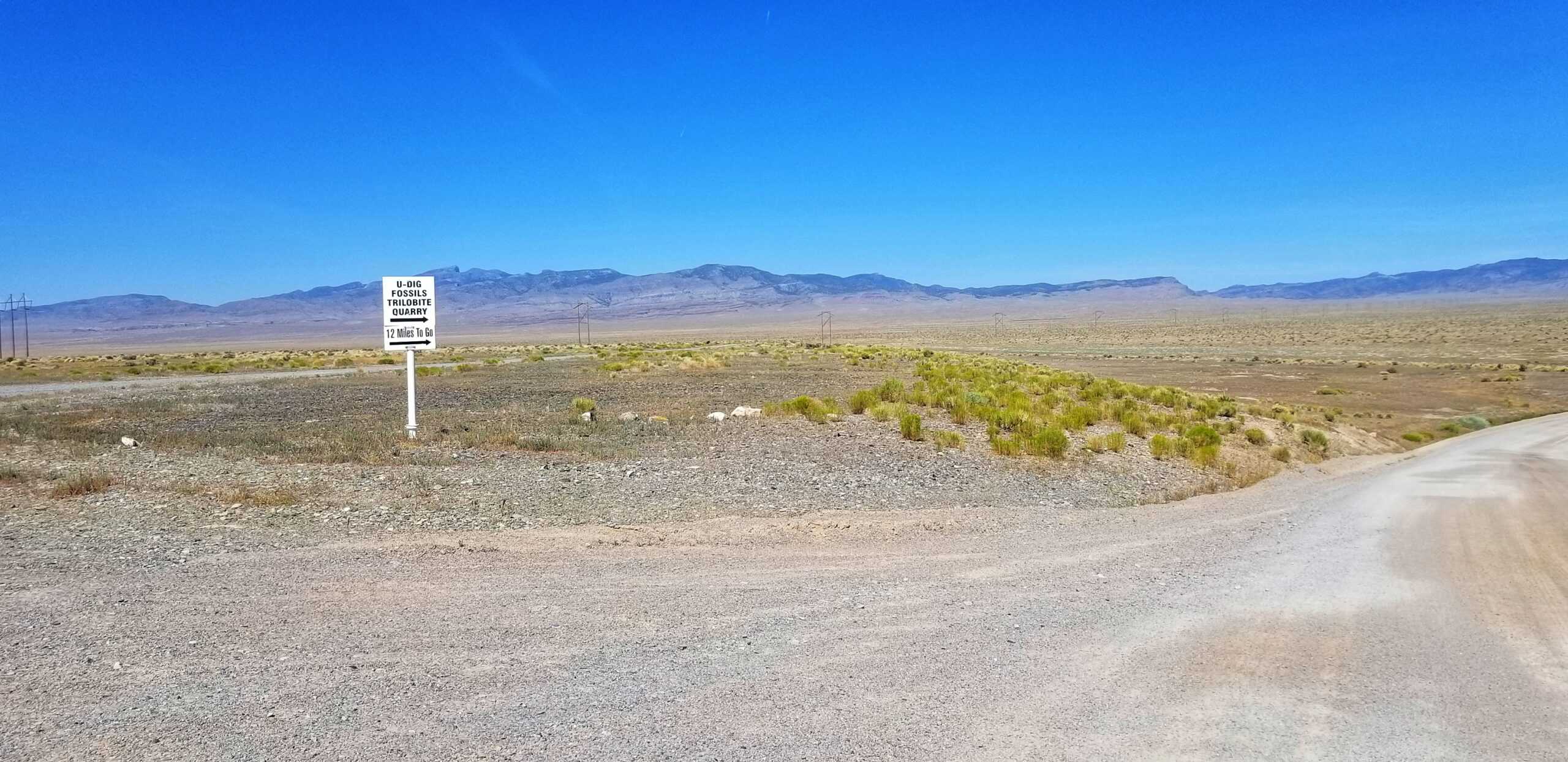 I was driving a mini van and the gravel roads were just fine. There was one or two very tight curves so make sure you are driving slow enough to handle them! Personally I wouldn't have wanted to drive an RV 20 miles on these gravel roads as the two curves had me a little nervous. I can't imagine having a big rig!
And a word of caution – keep your windows rolled UP and your recycled air on. As you can imagine it is a VERY dusty drive out there!
Just look at that scenery!!! There are only a few road splits and as you can see above the road signs that mark the road are clearly visible. You won't miss them!
What to Bring on Your Fossil Hunt:
I highly recommend bringing the following items on your fossil hunt:
sunscreen

hat

a gallon of water per person

first aid kit
U-Dig Fossils provides the hammers and buckets so there's no need to bring along your own gear! Although I do recommend if possible bringing your own container(s) to put your fossils in.
We were about 7000 miles into a road trip so all we could do was triple bag ours which wasn't the most ideal but it worked.
How much does it cost to dig for fossils?
The price to dig for fossils depends on the age of the digger as well as how long you are digging for! You can see current prices here, but we spent about about $60 for 4 of us (my daughter was free) for 2 hours of digging. And they DO accept credit cards!
The guy at the fossil shack was INCREDIBLY nice. You could tell he really loves what he does, and he was so helpful! He showed us some fossil examples, showed the kids how to hammer away to find the best fossils, and threw a bunch of fossils in our bucket to get us started.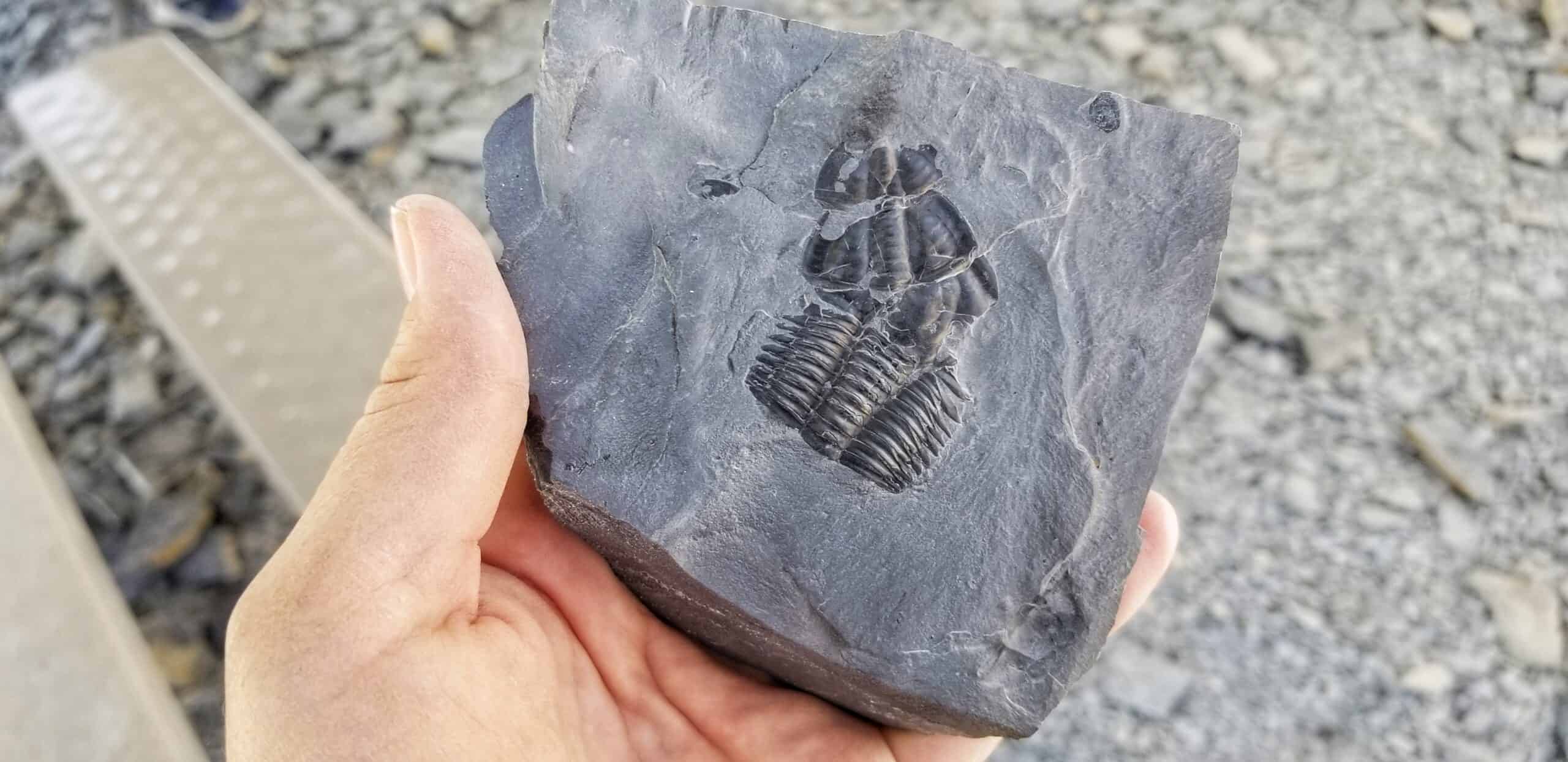 Trilobites are not in short supply here! They are EVERYWHERE! And crazy enough my 4 year old found more trilobites than the rest of us! Probably because she is closer to the ground to see them! The quarry is huge. Even if you're in a large group there's PLENTY of space for everyone.
There is a shaded picnic table area for anyone who is not digging. Much of the quarry is rocky and steep enough that it's not suitable for everyone to climb through, but that doesn't mean you can't join the group and watch!
My oldest son was 12 years old at the time that we went fossil digging. Let me tell you that after toting around a 5 gallon bucket full of rock – it gets exhausting! I recommend taking frequent water and sunscreen breaks and there's not a lot of shade out in the quarry!
Once we had our fill of digging rocks, we took our buckets up to the table and began pounding away, hammering off excess rock. The fossil shack guy will help you know how to hammer the excess rock away leaving just your trilobite exposed! He'll even buff out and smooth your favorite pieces for you! (Tips are always appreciated!)
This was my 4 year old – she wanted to keep ALL of the trilobites! Don't get me wrong, we each left with a solid 10-15 pounds of rock, but she just wanted to hoard it all haha! I conveniently made some of the more damaged pieces disappear when she wasn't looking!
I don't recommend bringing kids younger than 4 years old at all. Two hours was a long time in the straight heat. She did a great job, but even I was utterly exhausted in the heat! Expect a few smooshed fingers if you're letting your kid swing a hammer!
Have younger kids? They'll love this fossil play dough idea!
You can barely even see my 10 year old here! He's just a little dot in the horizon! Overall the U-Dig Quarry was absolutely worth carving out a day to visit. We literally carried 20+ pounds of trilobites in our van throughout the remainder of our 9000 mile road trip and then across the country when we moved from Illinois to Louisiana.
Our trilobite fossil dig was a special memory we won't ever forget! It's probably a good thing we don't live closer to Utah because the kids would want to go back often!
Other Things to Do in Utah: