While on our epic 9000 mile road trip I decided to spend a few days in Colorado visiting my sister. We had been driving a VERY long day from Utah and were passing through the Denver area when I remember seeing some dinosaur footprints near Denver online a while back.
I quickly put the location in my GPS and decided we were close enough to make a stop in. Except the location, Dinosaur Ridge, was actually closed by the time we pulled in. I was pretty disappointed as we had driven such a long distance to see the dinosaur tracks when a kind lady in the parking lot let me know that I could see them FOR FREE!
You do NOT have to pay entrance into Dinosaur Ridge to see the dinosaur tracks! The Public Tours at Dinosaur Ridge cost money but you can absolutely just park your vehicle and walk up to the dinosaur tracks on your own! AND you can even TOUCH the fossil tracks!
I did not have the opportunity to visit the gift shop or main visitor's center as they were closed. I'm sure it's nice but we would have been totally bummed if we missed this!
So how do I get to the dinosaur footprints near Denver?
It's less than a 30-minute drive from downtown Denver! More than 300 dinosaur footprints are located here!
If you are coming OUT of the parking lot at the Dinosaur Ridge main visitor's center (16831 W Alameda Pkwy. Morrison, CO 80465) look straight ahead and slightly to the right. You'll see a steep hill where the road is blocked off from driving – that's where you want to head!
Take a right out of the visitor's center parking area and turn left right up that hill (or you can walk there from the visitors center). You can pull your car off to the right hand side before the road is blocked off!
From there you will just walk right up the hill! You absolutely cannot miss the dinosaur tracks. In fact there's SO MUCH MORE than just tracks to see! Be forewarned – it's a steep uphill walk so keep that in mind if you have wheelchairs, strollers, small children or elderly people in the group.
*There is an EAST and a WEST entrance to the hill but if you follow the above directions you will end up walking around the hill and end up at both entrances on foot. These directions are the easiest way for someone unfamiliar with the area to find the location.
What can you see at Dinosaur Ridge trail?
Believe it or not this Crocodile Creek area was once a very different climate! These sandstone layers and ripples were formed as part of a coastal beach long before people inhabited the area! You can actually see crocodile swim tracks and scratch impressions in the rock!
Dinosaur Ridge trail revealed some of Colorado's first dinosaurs like the Apatosaurus and Allosaurus.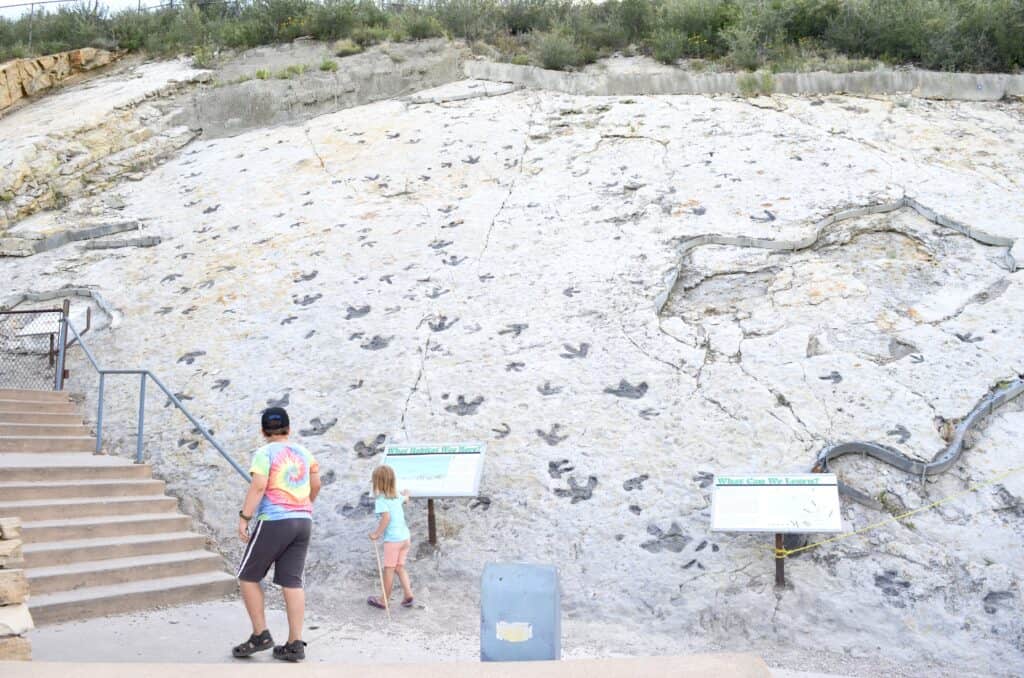 Just about the time we started questioning whether we were going to be able to see (or even notice!) the dinosaur tracks in the hill is when we arrived at this incredibly Jurassic spot! Considering we arrived at the last leg of a VERY long trip we were pretty exhausted! Not to mention that we are not used to the Denver area elevation!
You'll walk past VERY well marked areas of interest with other impressions and fossils throughout the entire walk, but I PROMISE YOU – you WILL NOT miss the dinosaur tracks! They are ENORMOUS! AND better yet – there are places to sit there and rest! Phew!
If you continue on up the hill there are plenty of other fossils, geological areas of interest, and gorgeous views, but if you came literally JUST for the dinosaur tracks and have no interest in anything else it IS a steep hill and it won't be the end of the world if you skip the rest.
If you have the time and energy though it's worth a lovely hike around the hill! If you're up for a full day of hiking and being in the area check out Triceratops Trail and the main visitors center and kids dig area! (the exhibit halls require an admission fee)